Sandra Naujoks – Stunning Model turned Poker Professional
Nationality:

Germany
Nickname:

"Black Mamba"
Age:

42 years
Poker Earnings:

$1.8 million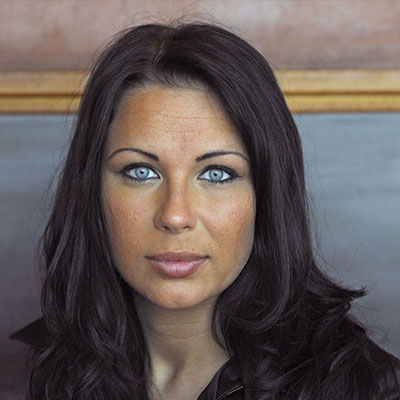 Sandra Naujoks is a model and professional poker player from Berlin, Germany.
At 32 years of age, she is becoming known as one of the fastest climbers in the poker industry and one of the most talented players to take a seat at the table.
Male eyes certainly turn towards her when she sits down at a poker table. As a model her looks attract attention, but her poker skills do the speaking.
She has been a strong presence at European Poker Tours as well as World Poker Tours and in the World Series of Poker.
Her stylish method of play often leaves her opponents confused as to how they have fallen for such blatant bluffing techniques and she has an impressive history of accomplishments to back up her reputation.
A Life of Many Careers – leading to Poker
Sandra has always enjoyed an exciting challenge in her daily life, although until her pursuits of professional poker began, these challenges usually revolved around educational subjects.
She pursued two degrees in University, the first in History and the second in German. When graduating, she was awarded a dual major and went on to become a teacher before being enticed with the prospects of another career as a graphic designer. Further to this, she became a professional model and became highly successful in both the modelling industry and as a graphic designer. 
Easily mastering her careers, she has always striven for new challenges and after a brief session with a few friends, developed a love for poker. She almost immediately signed up to several online poker game providers under the guise of Black Mamba, in strong reference to her pet snake and love of reptiles.
Whilst exploring her opportunities online and realising that she also had the potential to take part in live games, she opted to pursue professional poker as a full time career and entered herself in to several tournaments in the hopes of gaining experience and becoming a world class player. 
Female European Poker Tour Champion
Her first big tournament immediately saw her race her way to the final table in the Casino Austria Poker Tour in 2008. She participated in the €2,000 main event and finished in 5th place, bringing home almost €16,000 in prize money.
A month later, she took part in the Baden Poker event and fought her way to the heads-up action against the reigning champion Alexander Kravchenko. Sandra won out over the veteran and took her first professional poker title and a huge €174,500 prize for taking first place. 
Since then, she has taken part in a wide range of professional poker tournaments, such as the 41st World Series of Poker 2010 placing 15th, the Poker Stars Caribbean Adventure placing 196th, the CAPT Seefeld coming a respectable 16th, the 42nd World Series of Poker in 2011 main event placing 391st and the EPT Monaco Grand Final coming 51st. 
Her biggest success came when she won a European Poker Tour Title in Dortmund, Germany. Facing up to a final 3 players who were all home grown Germans. Naujoks dominated the final table and became only the second female player to ever win an EPT event and along with it a prize of $1.2million.
Currently, Sandra has set high targets for herself wanting to add to her EPT win with a bracelet from either a World Series of Poker or World Poker Tour event and has given herself a target of reaching this goal within the next few years.
She has previously concentrated her skills on a particular style of game play but has since decided to study other poker game types to expand her game and provide her with a wider base and more events to enter to try and achieve her bracelet goal.
Sandra Naujoks's Major Title Record
WSOP Bracelets

0
EPT Wins

1
WPT Wins

0
A Lady and her Horse
In her spare time, Sandra enjoys sightseeing and modelling, usually at the same time, as she is often taken to international locations for her modelling career.
She donates to several charities ranging from skin cancer research as well as supporting the elderly.
Sandra enjoys relaxing retreats where she can pursue her love of her sport and often travels with friends and family members to remote locations for the quiet solitude afforded by the pine forests in and around Germany.
Want to Play with Sandra?
Being an instantly recognizable face among the hundreds of professional poker players globally represents how far this aspiring player has come and she certainly doesn't look set to slow down any time soon.
She is currently a member of Team Pokerstars and is sponsored by this multi-billion dollar poker company. Becoming the face of Pokerstars meant that not only did Sandra receive great publicity, but the company gained the backing of a well known professional model to represent their services.