Vanessa Selbst – Giving the Men a Run for their Money
Nationality:

USA
Nickname:

"fslexcduck"
Age:

39 years
Poker Earnings:

$8 million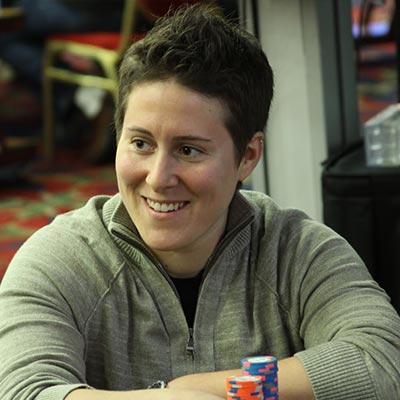 Vanessa Selbst, born July 9th 1984 is a well known female professional poker player of Jewish-American descent and one of the top earning female poker players of all time.
With $8 million in cash won from an array of professional poker tournaments globally, Vanessa has become one of the most recognised female poker players of her generation.
Selbst has made it to 6 final tables and counting at some of the world's biggest events, walking away with money in the bank on many of these occasions.
She is recognised in the poker world not only as one of the top female poker professionals, but one of the best across both genders, full stop.
New York Girl
Vanessa was born and raised in Brooklyn, New York and currently resides in Las Vegas, Nevada. She attended the Massachusetts Institute of Technology before transferring and graduating from Yale University with aims towards becoming a civil rights lawyer, Vanessa fell in to the path of poker and has been an avid player ever since. 
As a young girl, Vanessa was a huge fan of card games, and as soon as she turned 21 she undertook the goal of playing professional poker in hugely competitive casino environments. She excelled at mathematics and used this skill at methodical calculation to second guess her opponents and leave fellow players astounded at her sheer intelligence and intuition.
Once Vanessa decided to pursue her selected career as a professional poker player, there really was no stopping her. After a few practice runs and realising her innate abilities to empty tables and pockets, Vanessa decided to make a living playing a game that she not only enjoyed immensely, but was fantastic at.
Earning a Name for Herself in a Man's World 
The 29 year old professional poker player has 16 cashes at the World Series of Poker as well as 2 cashes at the World Series of Poker Europe. Her first cash saw her finish in 7th place, earning a more than satisfactory $101,285. In 2007, Vanessa tied in third place bringing home $128,968 in winnings and $227,933 in the 2008 Omaha event being the only female entrant to the tournament that year. 
Selbst has become only the second woman to win a World Series of Poker bracelet on record and her current total winnings to date from the WSOP is $1.2million. Further achievements are her runners-up position at the $1,500 World Poker Tour, taking part specifically in the Ladies Championship and earning a princely sum of $40,815. She also went on to win the $1,000 No Limit Hold 'Em event of the World Poker Tour Ladies Tournament in Los Angeles, 2008.
Recently in 2011, Vanessa claimed third place in the Doyle Brunson Five Diamond World Poker Classic, bringing home another huge prize of $338,351. She hasn't just limited herself to the World Poker Tours though and has been present during several North American Poker Tours, where in 2011 she defended her championship title at the Mohegan Sun and earned $450,000, becoming the first person, let alone female, to win two consecutive Mohegan Sun main events. 
Vanessa also took part in the European Partouche Poker Tour in 2010, winning a whopping £1.83 million and then the PCA high roller making a further $1.4 million, naming her the highest ever earning female professional poker player in history.
Vanessa Selbst's Major Title Record
WSOP Bracelets

2
EPT Wins

0
WPT Wins

0
Away from the Tables
When Vanessa isn't breaking records and winning tournaments, this award winning sportswoman can be seen spending time with her family and friends, walking her dogs and spending time supporting local charities and fundraisers. 
When Vanessa has time away from poker, she tries to focus on her intense studying routine towards her higher education with the Massachusetts Institute of Technology.
She spreads her time between her studies and pursuing hobbies such as Pacman, a tried and tested favourite of hers since a young age. She is also an avid fan of pool, tennis, basketball and darts, playing alongside friends and family.
Winning thousands of dollars at the poker tables isn't Vanessa's only skill, she also spends her spare time as a poker coach, encouraging and training both amateurs and enthusiasts in the art of professional poker and how they can improve their game.
She is an coach for Deuces Cracked, an online subscription based poker training site, where she provides instructional videos, articles, and forum advice to encourage poker fans to become better players as well as to involve the wider community in her sport and share her knowledge.
Play with Vanessa Selbst at Pokerstars
Vanessa Selbst isn't just a female poker player, she is one of the best poker players on the face of the earth. Respected by her opponents and held in high regard by her fans and followers, she represents a growing community of female players with the skill and ability to take on their fellow players and win big.
She is part of Team Pokerstars and exclusively plays online there, where you can watch her play, rail her in a high stakes tournament and chat to her while she plays. She also plays at lower stakes, so her fans can join in and play at her table and have some fun.