Victoria Coren – TV Presenter, Journalist and First Ever Female EPT Champion
Nationality:

United Kingdom
Nickname:

"Teacup"
Age:

51 years
Poker Earnings:

$1.7 million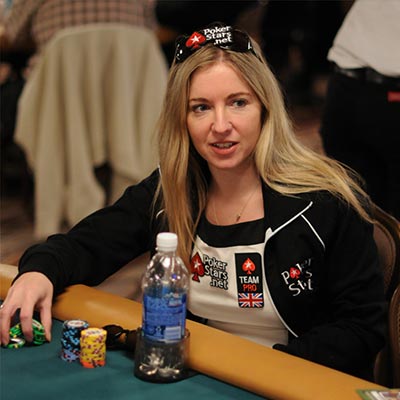 Victoria Coren, born Victoria Elizabeth Coren is an English writer, presenter and professional poker player.
Born on the 18th of August in 1972 in the London borough of Hammersmith, Victoria still currently resides in London, UK.
Known as Vicky to her friends, she has achieved a full and successful career both on the poker tables and as a journalist and TV presenter.
The host of many popular TV shows on UK television, both related and unrelated to Poker.
She is also married to famous British comedian David Mitchell after a lavish wedding ceremony in 2012 with an audience packed full of celebrities from the British showbiz industry. 
Born to be on TV
She was brought up in Cricklewood, a small village next to the internationally reputed Cricklewood Studios. Her mother is a Doctor and her father is a well known journalist.
Victoria, known in the poker world as Teacup, attended several independent same-sex schools from the age of 5 to 18 before going on to study for her higher education at Saint John's College in Oxford, where she graduated with a first-class degree in English. 
At the tender age of 14, Victoria had a short story professionally published under a pen name, for the Just Seventeen magazine and won a competition held by The Daily Telegraph for her teenage writing topics. She went on to write a play adapted from the newspaper entries of John Diamond, which was performed during the 2000 Edinburgh Festival at the Assembly Rooms, the Grace Theatre and the New End Theatre in London before re-adapting the project for a television show in 2001 broadcast on BBC Two. 
In 2007, as an undercover journalist, Victoria revealed how she had instigated a hoax to trap apparent mourners attending funeral services to mourn for people that they had never actually known. She revealed the truth about the groups, who were only attending the services for the free food and drinks. With a humorous take on a relatively morbid subject, Coren was proud to have foiled these free loaders. 
The First Female EPT Champion
Coren first began playing poker professionally in 2006, where she entered the European Poker Tour and became the first female player to win a televised tournament as well as a celebrity tournament; the Celebrity Poker Club.
A frequent visitor of the Victoria Casino (no relation), Coren can be seen clearing tables of opponents in standard Texas Hold 'Em games. In fact is was at this very casino which shares a name with Victoria that she made her biggest mark on the game.
Her 2006 entry in to the European Poker Tour London leg saw her beating 400 opponents to become the first women ever to win a prestigious EPT title and along with it a huge prize of GBP £500,000. This remains her only major title win, however her winnings don't stop there with total career earnings to date of $1.7 million.
In November of 2011, Coren finished second at the International Federation of Poker (IFP) "The Table" World Championship, being defeated by Raul Mestre in the final heads up battle. For second place she was awarded $100,000; 10% of which she donated to the well-known Age UK charity, supporting work with the elderly and senior members of society.
Victoria Coren's Major Title Record
WSOP Bracelets

0
EPT Wins

1
WPT Wins

0
Her Career away from Poker
Vicky has established herself as a TV presenter for numerous shows both in the sport of poker, but also in more mainstream subjects.
As a radio presenter, Coren has been involved with such projects as the Fourth Column and Off The Page for Radio 4, as well as two series of Balderdash and Piffle relating to the use of words within the Oxford Dictionary. She has also hosted documentaries on Language and Art for BBC 4.
As a poker and gambling specialist, she has further presented The Poker Nations Cup and Late Night Poker for Channel 4 as well as an entire series in which she covered the World Poker Tour for ITV2 and provided commentary for the European Poker Tour. 
Using her skills in academics and the use of the English language, she has had guest appearances on several UK television shows, such as You Have Been Watching, Midweek, Woman's Hour, Have I Got News For you, QI, Opinionated and Eight Out Of Ten Cats. Her appearances are always appreciated as beyond her serious poker-face, she is considered quite the comedian herself, always poking jokes at her friends and family and making fun of herself.
Her joyful nature and friendly demeanour has won her fans both on and off the field and she looks set to enjoy many more years in front of our screens drawing in huge audiences.
Married to a Celebrity
In her spare time, Victoria is a huge fan of cookery and gardening. She enjoys creating her own recipes and can often be found in the kitchen adding random ingredients to well-known dishes to test the results on her family and friends.
In 2012, she announced her engagement to her now husband, comedian David Mitchell. The couple were rumoured to have met during the filming of The Bubble but they state that they met at a film premier in the middle of 2007 and after 3 years they began to date. Their wedding took place on the 17th November 2012.
Play with Vicky Coren
Coren states that she often stays up until the early hours of the morning, smoking, drinking and gambling both with friends and online.
In 2008, Victoria was recruited to the Team Pokerstars and is now a sponsored player representing them at tournament around the globe.
As part of Team Pokerstars she plays exclusively online at Pokerstars where you can watch and chat to her while she plays or even sit down at her table if there is space. To do so, just click the box below to download Pokerstars and open a free account.