Tony G to Run for Election to European Parliament – Real or Fake?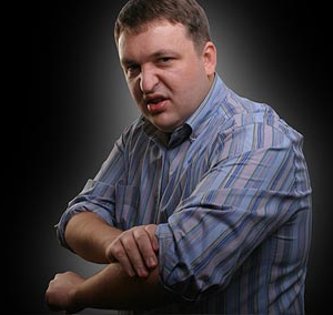 Tony G is notorious in the poker world. When you think of crazy antics and shocking behaviour then the person you think of is Tony.
He is notorious at the poker tables for his verbal abuse towards other players, some take it well and others not so well. This verbal assault has earned him one of his nicknames of "The Australian Airbag". 
Most poker fans can think of a few shocking Tony G moments, such as the time he ranted and tortured Suriner Sunar at the WPT Paris Main Event final table, leaving Surinder visibly shaken by the ordeal.
Then there is the famous (but quite friendly) ongoing feud he has with Phil Helmuth leading to crazy proposition bets and challenges flying from both sides.
So just when we think that Tony G can't shock us any more, he has pulled another one out of the bag by announcing his intention to run as a candidate in the 2014 European Parliament elections.
Tony G – Liberal Candidate – 2014 European Parliament Elections
The news that Tony G has been selected to run for the 2014 European Parliament Elections as a Liberal candidate has been met with some bemusement. He is certainly not the model citizen that you would expect from a politician, however I suspect that if you looked behind most politicians then they would not be either. 
He will stand representing his native country Lithuania, and representing the Liberal Party who at the moment only have one MEP so Tony will have to campaign hard to actually get elected as a member.
When commenting on the start of his campaign Tony says:
"I believe that Lithuanian politics needs new people and new blood and I want to be in a position to change policy and I qualify as new blood"
We first got a indication of him wanting to get more involved in his native country when he was awarded the Business Lighthouse Award in recognition for "promoting his country in a positive manner" with his response being:
"I am hoping to be even more involved in my home country in the coming years."
He has taken that promise to the extreme, and if he does manage to get elected as an MEP then he will be more involved in his home country then most Lithuanians.
About Tony G
Tony G, whose full name is Anatanas Guoga was born in Lithuanian, but left at the age of eleven, moving with his parents to Australia where he currently lives and spends most of his time.
Despite this he is still a well known figure in Lithuania which has led to his awards and recognition in the country.
Tony has had considerable success as a business man, being the founder and owner of Poker News, the internet poker news site. His fame at the poker tables has also led to lucrative sponsorship deals, the most notable being his ambassador role for Party Poker which has recently come to an end. Since that he has been spending his time running his personal site tonygpoker.com and launching his new commercial site tonybet.com.
Real or Fake?
So… what do you think? Is this story real or fake? Tell us your thoughts in the comments below and then find out by clicking the Real or Fake button below.
Click here to reveal if this story is Real or Fake...
It's Real!
This story is 100% True, honest! Did you work it out? Let us know in the comments below.
×