Andy Black – The Monk – Mixing Poker and Buddhism
Nationality:

Ireland
Nickname:

"The Monk"
Age:

57 years
Poker Earnings:

$4.4 million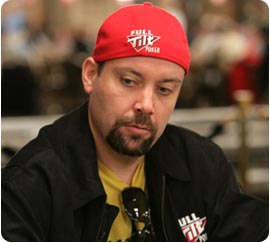 Andy Black is known in poker circles as "The Monk." He started playing in the major tournaments in 1997.
After a couple of years of play and a 5 year sabbatical, he came back to poker in a big way. Since then, he has been busy racking up the cash.
Turbulent Youth in Belfast
Andy Black was born on July 20, 1965. He hales from Belfast, Ireland, where turbulent times were afoot during his youth. To take his mind off of the violence, his mother taught him to play cards.
Black was a great student, both of cards and at school. He ended up at Trinity College in Dublin, studying for a law degree. He also joined in a poker school there at the Junior Common Room, where many notable players had played.
During the same period, you could find him spending some time at the Griffin Casino in Dublin, eating the free food, drinking the free coffee, and playing a mean hand of poker. It was in these times and at these places that he began to hone his skills.
Learning Lessons the Hard Way
In 1997, he was riding high at the World Series of Poker main event. He had a run-in with Stu Unger and was eliminated in 14th place. The next year, he returned to the event, a year older but apparently not wiser yet. He brought with him a crew to film a documentary of his win at the tournament. Instead, they captured his crushing defeat.
Andy Black was devastated. He needed time to regroup and re-evaluate the course his life had taken. After selling all his worldly possessions, he moved to England. There, he lived a sort of monastic life as a Buddhist devotee. This is how he got his nickname as "The Monk". After five years away from poker he was ready to make a reappearance.
Black was on a hot streak starting with the 2004 Irish tournaments. He followed this by an interesting performance in the 2005 WSOP main event. At one point he led the final table; over 1/3 of the chips in play were his. He dramatically lost his lead and was eliminated. However, he went home with a cool $1.75 million and 5th place.
Andy Black continued with his money finishes in the European Poker Tour and the World Poker Tour tournaments. In the Tournament of Champions, he made the final table. There, he again held a huge lead, but once more was stopped, this time by Daniel Negreanu. He was eliminated in 5th place for a prize of $100,000.
Andy Black's Major Title Record
WSOP Bracelets

0
EPT Wins

0
WPT Wins

0
Black has had even more luck in 2007. He had a great stand in the Aussie Millions tournaments. He came 2nd in the Pot Limit Omaha event. This earned him $100,000. He also won $750,000 by coming in 3rd in the No Limit Main Event.
The European Poker Tour held their Grand Final, and Andy Black won 320,000 euros as 7th place player. In the same year, he has won over 54,000 euros at the Irish Open Pot Limit Omaha side event. More importantly, he beat Michael Greco heads up to do it.
The Spiritual Side of Team Full Tilt
Andy "The Monk" Black now travels the world playing in big money tournaments. He meditates between breaks to stay focused. It must be working because he has total winnings of $4.4 million over 26 cashes. He is no stranger to donating to charities and causes.
Andy was a former member of Team Full Tilt, but is no longer sponsored by them. He can still be found playing regularly at Full Tilt Poker where he can be found playing and talking with his fans at the Full Tilt tables.