6 Things You NEED to Know About:
Full Tilt Poker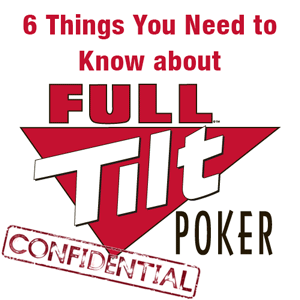 Full Tilt Poker has been in the news a lot over the past few years, with most of it being bad press. Whilst it has certainly been the talking point of the poker industry over that period, there have been many twists and turns to the story.
Full Tilt Poker is in a different place now to where it was and here are 6 things that you really need to know to understand the current situation.
1. I've heard bad press about Full Tilt Poker – Is it true?
Like with any big news story that is reported on over a period of time, some things you will have heard will be true and some will probably just be an evolution of the story with very limited truth to it.
Let me try to summarise the full story and clarify the key facts about what happened.
The birth of Full Tilt Poker
Full Tilt Poker was established in 2004 by a group of professional poker players based in the USA. The key directors in the company were well known professional poker players Howard Lederer and Chris Ferguson, along with CEO Ray Bitar.
The Growth of Full Tilt Poker
Lederer and Ferguson, together with the other investors who were also well known professional poker players like Phil Ivey and Phil Gordon formed Team Full Tilt to promote the new online poker company.
Members of Team Full Tilt were regularly seen on Poker TV shows wearing clothes promoting the brand. Together with this TV exposure and a strong marketing campaign based around these new TV Celebrities, Full Tilt quickly grew to be one of the most popular online poker operators.
The US Government's first attack
Then in 2006 the US government made a move to stop their citizens from gambling online by introducing the Unlawful Internet Gambling Enforcement Act of 2006 (UIGEA) which banned financial institutions from processing transactions with online gambling companies.
A number of poker operators immediately stopped accepting US players, but Full Tilt Poker along with a select few other companies (most notably Pokerstars) continued to accept them, based on legal opinion that poker was a game of skill not chance and therefore does not fall under the classification of Gambling defined by the UIGEA.
The Start of the Problems
During the next few years Full Tilt Poker grew to be one of the largest online poker operators, second only to Pokerstars. Their player base was over 50% US based.However problems were starting to surface as the company was finding it increasingly difficult to process player deposits due to the financial regulations that had been introduced as a result of the UIGEA.
The company had to increasingly search for payment processors who would process the transactions, some of which would use creative ways to get the transactions through such as code the transactions as flower purchases and other unrelated items instead of online poker.
The Deficit
As the company used increasingly creative and less trustworthy payment processors, together with the efforts of the US Government who were actively attempting to intercept and confiscate transactions, funds started to disappear and a growing deficit emerged which meant the company didn't have enough cash in the bank to match the amount owed to the players via their account balances.
Black Friday – The US Government's final blow
On 15th April 2011 the US Department of Justice indicted 11 individuals connected with the three main companies that were accepting US players, Full Tilt Poker, Pokerstars and Absolute Poker on various charges including money laundering and seized their domain names.Included were Full Tilt's CEO Ray Bitar and Director of Payments Nelson Burtwick. Civil Charges were also brought against key directors Howard Lederer and Chris Ferguson.
This sent shock waves through the online poker industry and dubbed as "Black Friday" lead to all three operators ceasing to accept US players with players being left unable to access their player balances as the companies no longer had any way to refund them.
The Recovery
Pokerstars as a well run company and the largest online poker operator in the world quickly negotiated with the US Department of Justice and arranged repayment of all US players balances in full and their continued operation on the basis that they no longer accepted US players.
Full Tilt Poker were unable to do this due to the large cash deficit that had built up and soon after Black Friday stopped operations in full, now affecting worldwide players who now didn't have access to their player balances which were estimated to total USD $330 million.
Industry leader Pokerstars then stepped in to offer a solution to get all the players paid. They negotiated with Full Tilt Poker and the DOJ resulting in Full Tilt Poker surrendering all it's assets to the DOJ who then in turn sold them to Pokerstars for $731 million as part of the settlement or "fine" for their activities involving US players. The settlement included $547m in cash and the agreement to refund non US based Full Tilt Players their account balances totalling $184m. US based players would then be refunded directly by the DOJ.
Pokerstars relaunched FullTiltPoker in November 2012 under their ownership.
There is a lot more depth to the story, but that is a good summary so you can understand the background.
FullTiltPoker is now the sister company to Pokerstars, which is the world's largest online poker operator, and who conducted itself with great dignity and professionalism throughout Black Friday and the subsequent events. It has earned great respect from the poker community due to this and it's efforts to ensure that players got their money back and the reputation of the industry was not damaged.
2. What happened to the old Management Team that caused all these problems?
CEO Ray Bitar, who must shoulder a lot of the responsibility for what happened, is no longer involved with Full Tilt Poker. Also key directors Howard Lederer and Chris Ferguson are also no longer involved with the company.
All three have now settled their legal cases with the US government. Bitar surrendered $40m in cash, properties and other assets purchased with proceeds from Full Tilt Poker activities. Lederer surrendered $1.25m in cash as well as several luxury properties and other assets. Ferguson surrendered $2.35m in cash plus forfeited all funds in bank accounts seized by the government (estimated to contain up to $25m).
The company is still based in Dublin but Pokerstars have put a new management team in place and have put processes in place such as segregated player fund bank accounts to ensure that what happened under the previous management can never happen again.
We can certainly take a lot of comfort knowing that Pokerstars are in control following the professional way they handled the Black Friday situation and the way they acted in the player's best interests throughout.
3. Can I still play online with all the famous Professional Poker Players from Team Full Tilt?
The former Team Full Tilt, where a number of members were actually part owners of the previous company, no longer exists.
A new team to represent Full Tilt has been created called "The Professionals" and is headed up by well known pro's Gus Hansen, Tom "Durrrr" Dwan and Viktor "Isildur1" Blom.
Just like before any player can sit down and play online poker with these famous players on FullTilt Poker, just log on and search for their player name which will be highlighted in red and sit at any open seat or simply just watch and chat to them in the chat box.
4. Is the Software as Good as Before?
The Full Tilt Poker Software has for a long time been regarded as the best online poker software. The good news is that the excellent software was one of the "assets" that was rescued from the old Full Tilt Poker and forms the basis of the current software.
I have always loved playing on the Full Tilt software, with my favourite element being the fun avatars that you can select to represent you at the table (I'm the cheeky monkey!) and the way you can change the mood of the avatar from happy to sad to angry etc… great fun!
It remains intuitive, clean and easy to use software with a great and bug free user experience.
5. Can I Trust Full Tilt Poker?
My opinion on this has varied over the past few years. With the old management team in place, and knowing what we know now about the mismanagement that occurred then the answer would have been a resounding no.
Now with a new management team in place and being overseen by their parent company Pokerstars, an extremely well financed, well respected company who are also the biggest and most popular online poker company in the world, things are much different.
Under their stewardship, in the short space of time since Full Tilt Poker was relaunched, they have regained the trust of their players and grown the company back to it's old position amongst the largest online poker operators, second only to it's parent company Pokerstars.
Player deposits and withdrawals are fast and reliable once again, and it is incredibly reassuring to know that all player funds are protected in segregated bank accounts. They are also now licensed and regulated by the Isle of Man, which is a highly respected regulator in the industry.
Because of this, I once again play at Full Tilt Poker and have no hesitation in recommending that others place their trust in the company once again and play there too.
6. How Much do they Want Me Back?
The promotions on offer to new and existing players are excellent. They are obviously trying to win back some of the players who left them during the Black Friday situation.
All new players will receive a 100% Bonus on their first deposit meaning that for each dollar deposited you will receive a matching dollar as a bonus. This is up to a maximum of $600, so deposit $600 and you will get another $600 bonus for free. For more details see our Complete Full Tilt Bonus Guide.
On offer also is a fantastic VIP player rewards program called "Edge", where player's are rewarded with access to exclusive tournaments, weekly Edge Rewards cash payments and the opportunity to earn "Black Card" status or even win a Black Card Pro Sponsorship contract.
So… Should I play at Full Tilt Poker?
Many players, just like me, have returned to playing at Full Tilt Poker, having put the period of Black Friday behind us.
I have been in the Poker and Online Gaming industry since 2005, and would not provide my endorsement to a company that had acted in bad faith or not in the best interests of the players.
However what I have seen happen since Pokerstars took over ownership of Full Tilt Poker has convinced me that a new chapter has opened up in their history.
Why do I play at the new Full Tilt Poker?
I feel safe knowing that my player balance is protected in a segregated player funds bank account
I feel comfortable that there is a new management team in place overseen by parent company Pokerstars, who are the industry leaders
I know I can always find a game quickly as Full Tilt is once again one of the two largest online poker sites in the world with thousands of players on at any one time.