Full Tilt Poker Bonus:
The Complete Guide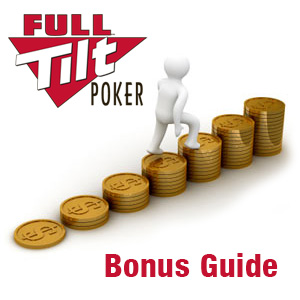 The Full Tilt Poker Bonus on offer to all new players is actually one of the most lucrative available and in conjunction with DownloadPoker.org they offer all players who sign up via the links on this website a lucrative Welcome Bonus.
This is our complete guide to the Full Tilt Poker Bonus and our Welcome BONUS.
Max Out Your Bonus:
Our Welcome Bonus
The DownloadPoker.org & Full Tilt Poker Welcome Package consists of the following:
100% bonus on your first deposit made into your account within the first 60 days.
Up to $600 Completely Free from Full Tilt who will match your first deposit dollar for dollar up to a maximum of $600.
Just Deposit and Play and your bonus cash will automatically appear in your player balance as it clears.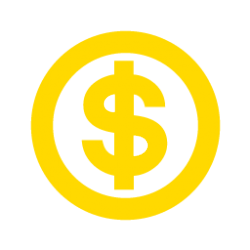 What is a Poker Bonus?
All poker sites offer new players a bonus on their first deposit they make into their poker accounts. This is their way to promote what they have to offer, and encourage players to try their software by getting first hand experience with the hope that they become a regular player.
The amount of the bonus that a player will be entitled to will vary from site to site. For a full introduction to bonuses take a look at our guide What is an Online Poker Bonus & How do I get one?
The difference with Full Tilt Poker is that you get a massive first deposit bonus of up to $600 and also get to take part in numerous promotions they run for new players such as freerolls and special tournaments.
How the Full Tilt Bonus Works
It's pretty simple to qualify for the Bonus. All you have to do is to Download Full Tilt Poker and create a player account then make a deposit for an amount of your choice into your account.
Whatever amount you choose to deposit, FullTilt will match and double your deposit for free. So if you chose to deposit $20 then you would earn a bonus of $20 on top of this to make a total of $40. If you chose to deposit $600 then this would be doubled to $1,200.
The bonus can be claimed on all of your first three deposits made within the initial 60 days after creating your new player account. The maximum bonus that will be given is $600 in total across all three deposits.
There is no Bonus Code required to be entered, everything will be taken care of automatically when you make your first deposit and then Opt In to the welcome package bonus.
Now, you do not get the bonus deposited into your real money account straight away. This is a fraud prevention method to ensure that only genuine players get the free cash, and scammers aren't able to just make a deposit, get awarded the bonus and then cash out without ever having any intention of playing.
Your bonus will first be put into your Bonus Account which can be viewed in the Cashier page by selecting the Bonus Account option.
Your Bonus will then be released into your real money account balance in instalments as you "clear" the bonus. So how do you clear your bonus? Lets take a look…
How to Clear your Bonus
You came to play poker right? So as you would expect clearing your bonus involves playing in either cash games or tournaments.
Every time that you play real money poker you will earn Full Tilt Poker Points and as you accumulate these points your bonus will be released.
Any form of real money poker game will earn you points, tournaments, cash games, rush poker all will count. However you will NOT earn any points playing at the Play Money practise tables.
It won't take long to start clearing your bonus as your free cash will be released in instalments of 10% of your initial deposit or $20 chunks whichever is smaller as you reach the required number of points. For example if your initial deposit is $50 then your bonus will be released in 10 instalments of $5. If your initial deposit is $400 then your deposit will be released in 20 chunks of $20 each.
For each 25 Full Tilt Poker Points you earn, $1 of your bonus will be cleared.
You have 180 days (6 months) from the date of each deposit to fully clear your bonus after which time any uncleared amount will be forfeited. Since the Full Tilt Poker clearing conditions are very fair the 180 days should be more than enough time to clear the entire bonus amount.
Clear by Playing Cash Games
Playing real money ring games on Full Tilt Poker is one of the best ways of earning enough points in order to release your bonus.
In Cash Games each player that contributes to the pot will receive points. The total points awarded for the hand is divided between the players involved in the hand based on their proportional contribution to the hand. So those who contribute the most to the pot will earn the most points.
In cash games 10 points are awarded for every $1 of rake. The rake is the portion of the pot that Full Tilt deduct as a fee and although this is not displayed at the table, you can see that the Total Pot displayed in the centre of the table has a small percentage deducted each time the chips from all bets are brought into the middle after each round of betting.
Clear by Playing Tournaments
You can also clear your bonus by playing in Tournaments or Sit and Go Tournaments. Once again you will earn Full Tilt Poker points for every real money tournament you play.
The Entry Fee for each Tournament includes a fee to play and will be displayed in the format of Buy In + Fee. For example a tournament displayed as $10 + $1 has a $10 buying which goes into the winners pot and a $1 fee to Full Tilt, total cost to enter the tournament is $11.
For every $1 in tournament fees paid you will receive 10 Full Tilt Poker points.
There is no minimum amount of points you can earn per tournament entered and the points will be awarded to your account after you have been eliminated.
Clear by Playing Rush Poker
Another good way of accumulating points to clear your bonus is by playing the craze that is Rush Poker at Full Tilt. Rush Poker is a form of "Fast" Poker.
With Rush Poker as soon as you fold your hand you are instantly taken to another table to start a new hand. Points are awarded for the hand you have just played in exactly the same way as if you were playing a standard cash game.
When playing Rush Poker you will see many more hands per hour, meaning the amount of points you can gain per hour is increased considerably.
See our Rush Poker Guide to find out more details on how to play Rush Poker.
Using "Happy Hour" to clear the Bonus Faster.
Happy Hour is run during certain times of the day where you earn double or even triple Full Tilt Points with no extra effort.
Unfortunately any points that you earn through a multiplier promotion such as Happy Hour do not count towards the clearance of your bonus. Only the base points you earn during Happy Hour will count so you will not clear your bonus faster playing during Happy Hour than any other time.
However you will still earn more Full Tilt Points during Happy Hour, and although the extra points awarded do not count towards clearing your bonus, you can still "spend" the points on the cash prizes, free tournament entry tickets and many other items on offer in the Points Store.
So… What is the Quickest Way to clear your Bonus?
You should really play whatever form of poker you enjoy the most and just let the bonus clear as it happens and not worry about it.
However if you want to clear the bonus in the quickest time possible, then you will do so by playing Cash Games or Rush Poker rather than Tournaments.
The reason for this is tournament have a fixed price entry fee which you earn points on, but they can also take many hours to complete. At Cash games you will be playing many hands per hour, and able to earn points on every hand. Rush poker you will play even more hands per hour.
Remember to earn points in a hand at a Cash Game or Rush Poker table you have to contribute to the pot, so the more active you are the more points you will earn. However you also have to be careful that you don't play reckless and just lose your bankroll.
For this reason Rush Poker is going to allow you to clear your bonus the fastest whilst also playing good poker, as you will be able to fold hands quickly (where you are not earning points) and instantly move onto the next hand at another table where the good opportunities to play hand (and earn points) will present themselves a lot more regularly.
How to Monitor your Bonus
You can view all pending bonuses and track progress towards clearing them via the Bonus Account screen. This is accessed by clicking the Cashier button in the main lobby and then selecting "Bonus Account".
In this screen you can view the bonus details and how many more points are required to release the next instalment.
How to Deposit and Claim the Bonus
First off, you will need to Download Full Tilt Poker and create a new player account. Once you have done this then to claim your bonus, all you need to do is make a deposit and opt in to the welcome package.
To make a deposit follow the instructions on the download page and choose your preferred deposit method via the Cashier screen.
Once you have made your deposit then you can opt in to the welcome package by selecting "My Promotions" from within the Cashier Screen. From there select "First Deposit Welcome Package" and click "Opt In Now".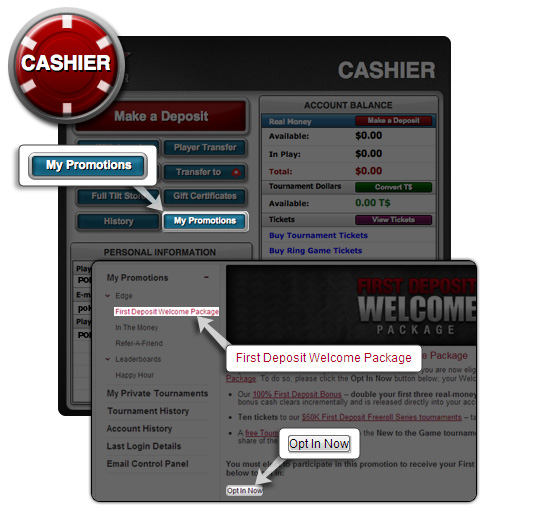 Once you have done this your bonus will automatically be credited to your Bonus Account and you will also get your Free $2.25 Tournament ticket to enter a Tournament or Sit and Go of your choice.
As part of the welcome package you will also get access to the $50,000 First Deposit Freeroll Series which gives you 10 free entries to tournaments where you can win $5,000. These tournaments take place every Sunday at 06:00 ET and 14:30 ET. To use one of your tickets and register for a tournament go to the Tournament listings in the lobby and select "Freerolls/FTPs" and look for any tournament called "$5K First Deposit Freeroll" and click Register Now to confirm your entry.
Time to Get Started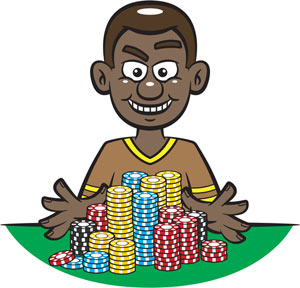 Now you have all the information on how to claim and maximise your bonus, it's time to get started and boost your bankroll.
It's really easy to get started, just click the box below to be taken to our Download page which has full instructions on the simple process of downloading and registering a free player account… Good Luck!