Carlos Mortenson – First Ever to Win both the WSOP & WPT Championships
Nationality:

Spain
Nickname:

"El Matador"
Age:

51 years
Poker Earnings:

$11.6 million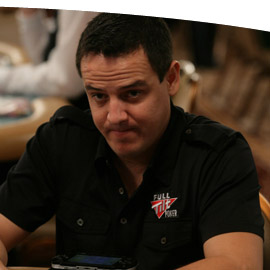 The story of Juan Carlos Mortenson is a long and interesting one.
He was born in 1972 in Ambato, Equador to a Danish father and a Spanish mother and has five siblings.
He started playing chess as a young man after his family moved to Spain, but when he learned poker, there was no turning back.
Carlos Mortenson started playing no limit hold 'em because he was waiting for his wife, Cecilia Reyes Mortenson and a game started up.
When he lost, and lost badly, he could not get it off his mind. He kept going back, eventually turning his loss into a profit and then just winning more and more. He was hooked on this wonderful game of poker that he had discovered and actually was pretty good at.
Then, there were the games of poker he played with friends. Betting on poker was illegal in Madrid, so it was a touchy situation. They would always tell the police they were playing for fun. His playing ability convinced him he should go to the US to play.
The Journey to the USA
He had a bankroll of $10,000. but decided not to bring it all. Instead, he only took $2,800 with him to America. Carlos quickly lost over half of his money on the first day, but he persevered and returned to play it up to a profit of $10,000. However, he could only spend three months in the states on his visa and so had to go back to Spain.
While Mortenson was in Spain, he took to playing in a private club. The routine in the club was to play no limit for an hour at a time. At the end of an hour, you cashed out. Then you started all over again. This sharpened his skills and gained him the admiration of his fellow players. They saw his talent and decided to foot the bill for a trip for him to the WSOP.
In the 1990's, Carlos Mortenson came to the US from Spain to play poker. By 2001, he had won the ultimate prize in poker, the 2001 WSOP Main Event title and along with it a prize of $1.5 million and his first coveted WSOP bracelet. This victory came only after wearing down a field of seasoned veterans in an 8-hour final table session.
Carlos did not speak or understand any English when he arrived in the US. What he did understand, though, was the facial expressions and body language of the players he was up against. He could work out their cards without understanding their words.
In 2003, he won his second WSOP bracelet in a $5,000 Limit Hold 'em event. He followed that up in 2004 with the WPT's Doyle Brunson North American Poker Championship where he took home another $1 million pay day.
Carlos Mortensen's Major Title Record
WSOP Bracelets

2
EPT Wins

0
WPT Wins

3
2006 brought Carlos to three final tables at the WSOP. He finished 9th in two No Limit Hold 'em events at over $70,000 each. He also placed second in the Razz tournament for almost $95,000.
In April 2007, he entered and won the season five WPT Championship event and along with it a prize of over $3.97 million. It also made him the first player to ever win both the WSOP and the WPT world championship events.
Nicknamed "The Matador", Carlos Mortenson seems aggressive and even crazy at times. He plays loose, bluffs, and is famous for coming up with crazy and imaginative ways to stack his chips.
With total tournament winnings of $11.6 million, he is one of the top 10 tournament money makers of all time. He is no longer sponsored by Full Tilt Poker but is still a regular player at the site and you can watch and talk to him via the chat box while he plays or even join in and play at his table.