David Benyamine – Competitive Drive to be Successful
Nationality:

France
Nickname:

"Napoleon"
Age:

51 years
Poker Earnings:

$7 million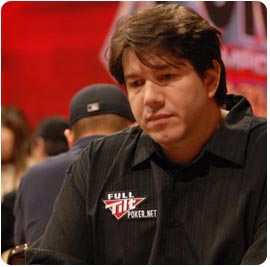 David Benyamine was born on July 5, 1972 in Paris, France.
He still lives in France where he enjoys spending time with his daughter, but now alternates his time between France and Henderson, Nevada in the USA where he is based for his poker career.
This gentle side does not take away from his intense professional poker career, where he has reached 4 World Poker Tour final tables winning 1 title and added a World Series of Poker Bracelet to his list of achievements as well as numerous high profile tournament finishes.
Tennis, Billiards and Poker
Benyamine learned to play poker at the tender age of twelve. When he became a tennis star, poker took a back seat. He was a very successful professional tennis player at the top of his game for a time. However, a shoulder injury suddenly ended his career in tennis.
Next he turned to billiards and his competitive drive once again lead him to become one of France's top players reaching the top 10 in the national rankings.
Yet, he heard poker's call. He took to playing poker at the Aviation Club in Paris. He started out in small limit games and worked his way up. In 2000, he won first in the Euro Finals of Poker Pot Limit Hold 'em/ Omaha Championship. His latest career, one in poker, was starting to take off.
Taking Poker more Seriously
In 2002, David Benyamine took second in the Euro Poker Pot Limit tournament. He finished off 2002 with a win in the Euro Finals of No Limit Hold 'em. While Benyamine is not primarily a tournament player, he started to have some noted success starting from early 2000.
Benyamine really came into his own when he won the 2003 Grand Prix of Paris World Poker Tour event. He took the top prize of $411,000 from a final table that included Erick Lindgren and Daniel Negreanu. This was the event that made a name for him around the world and within poker circles.
He won over $132,000 with a 6th place cash at the Season 2 World Poker Tour Los Angeles Classic in 2004. When he attempted to come to the Bellagio WSOP tournaments, he had a problem entering the United States. He ended up staying the year in Europe, playing poker online from his home in the south of France.
David Benyamine's Major Title Record
WSOP Bracelets

1
EPT Wins

0
WPT Wins

1
Benyamine returned to the United States in 2005 to continue his poker success. He won the World Poker Tour Battle of Champions II invitational event. Other players in the event were Antonio "The Magician" Esfandiari, Mel "Silver Fox" Judah, Phil "Unabomber" Laak, and "Cowboy" Hoyt Corkins.
As if this fantastic win was not enough for one year, he also won the Full Tilt Poker Global Poker Challenge in 2005. He continued his wins, and by the end of 2006, his total winnings from live tournaments were over $1 million.
In 2008, Benyamine added a World Series of Poker Bracelet to his achievements by winning the $10,000 Omaha Hi Low Split event for a prize of $535,687.
Known as a playboy of sorts, David Benyamine has no interest in reading books or magazines on poker. His focus is on learning more about himself. This comes from a perpetual need for self improvement.
One of Europe's Best & Team Full Tilt
David Benyamine is one of Europe's top players, with career winnings of $7 million, some say he is in the top two. He prefers to play high stakes cash games and can often be found playing online poker at Full Tilt Poker. His speciality is pot limit Omaha Hold 'em.
He was a former member of Team Full Tilt, but is no longer sponsored by them.
David Benyamine has no superstitions about poker. He plays a smooth game and plays to win. He is a great online player, and anyone who wishes to learn from a pro should try to get into a game with him at Full Tilt Poker or take some time out to watch and observe him, you will learn quite a bit!