Erick Lindgren – Debt, Gambling & Rehab
Nationality:

USA
Nickname:

"E-Dog"
Age:

47 years
Poker Earnings:

$9.9 million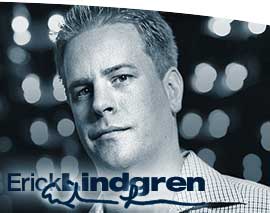 Erick Lindgren was one of the original celebrity poker players of the poker boom TV era of the early 2000's and remains on the poker scene today.
With many major poker wins under his belt, he keeps playing and competing with the best poker players in the world.
College Drop Out
Erick Lindgren was born in 1976 in Burney California. His family was of Swedish ancestry and they have another son, as well.
In high school, he led his sports teams as a football quarterback and as a MVP basketball player.
In fact, Erick went to college to play basketball. Somehow, after he got a job at a casino dealing blackjack, he found himself spending more time playing poker than attending classes. While he was learning a lot about poker, he ended dropping out of college.
Erick Lindgren continued to study the facial expressions and body language of the poker players in the casinos. He learned to spot their tells. When he turned 21, he was working as a propositional player for a casino. In this position, it was his job to go to tables that were slow to fill up and liven up the action.
He became a talented player at the casinos. Then, he became interested in internet poker. He would have several computers hooked up to different poker sites. He would play all of these games at the same time. He was making a large amount of money just playing on internet poker sites with this method.
Winning Year after Year
In the year 2000, Lindgren started playing in small buy-in tournaments in card rooms. In 2002, he won his first major tournament at the Bellagio in Las Vegas. His first World Poker Tour win came in 2003 at the UltimateBet.com poker classic II. However, he was just getting started.
Erick Lindgren's Major Title Record
WSOP Bracelets

2
EPT Wins

0
WPT Wins

2
In 2004, Lindgren had a great year. He had another WPT win at the PartyPoker.com Million III Limit Hold 'Em tournament. With all the poker triumphs he saw up to and through that year, Erick Lindgren was named WPT Player of the Year.
2005 was also a stellar year for Lindgren. He won the Professional Poker Tour Five Star World Poker Classic. He won 2nd in a WSOP Circuit tournament and 5th in the LA WPT Poker Classic.
Success has continued for Erick Lindgren. In 2006, he made several final tables at major tournaments. He won the Full Tilt Poker Pro Showdown at Red Rock Casino. In 2007, he has gone on to win the Aussie Millions, with a prize of $800,000.
Erick Lindgren, or E-Dog as he is called, resides in Las Vegas. He is the author of a book, "World Poker Tour: Making the Final Table." He has had 50 cash wins in major tournaments and his career winnings is nearly $10 million.
Erick is married to fellow poker player Erica Schoenberg and they have a son called Jake together.
The Disgraced Face of Team Full Tilt
Erick Lindgren is a fantastic poker player with competition in his veins. He makes any game he sits in exciting. What is more, he plays to win. This is the mark of a true poker player.
Erick was an original shareholder and former member of Team Full Tilt up until the events of Black Friday where the US Government took action against a number of poker operators which accepted US players, and nearly drove Full Tilt Poker to bankruptcy before Pokerstars rescued them and bought the company.
Unfortunately he did not come out too well in the reports of what happened after the events of Black Friday, with reports that he refused to pay back a multi million dollar loan from Full Tilt in order to help them to continue to operate and pay players back.
In 2013 his debts got on top of him and he filed for Bankruptcy and checked himself into Rehab to try and sort his problems out with Gambling and Debt. It must have done him some good as after coming out of rehab he went on to win $1.3 million in WPT and WSOP tournaments including a further bracelet in the $5k 6-max event.
He also revealed a lot in an interview in early 2013 with Bluff Magazine where he openly revealed the true story behind his gambling and debt problem.
You will still find Erick playing online at the relaunched Full Tilt Poker and he is happy to chat and give advice to his fans while he plays.