Greg Mueller – Hockey Pro turned into a $2million Poker Pro
Nationality:

Canada
Nickname:

"FBT"
Age:

52 years
Poker Earnings:

$2.6 million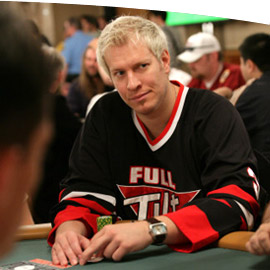 Greg Mueller is only getting started as a poker professional. But he has burst onto the scene with 2 World Series of Poker Bracelets and some impressive finishes.
His smart playing style and aggressive moves make it very likely that he will rise even further in the poker ranks soon.
Greg's nickname is "FBT" which stands for "Full Blown Tilt".
Hockey Pro to the Poker Circuit
Mueller grew up in Vancouver, Canada. From there, he went to play hockey. He was playing as a German hockey competitor when he started playing poker after he had met a professional poker player on a road trip with his team.
The pro took him under his wing and taught him about the game. They went to a casino once a week and played poker. After that, Mueller was fascinated with the game. He played whenever he got the chance.
After playing professional Hockey for 9 seasons he retired in 1999, much to the disappointment of his hockey fans. However, he went on to take up poker in a serious way after that finding that he could apply the same competitive advantage he had while playing Hockey.
He started playing in regular cash games in 2000. At first, he tended toward limit cash games. After awhile, though, he concentrated more on no limit games and tournaments. He began playing tournaments in 2004. Although he did not make an immediate mark on the sport, he learned very quickly in that environment.
Mueller has earned the nickname "FBT" for full blown tilt. He claims this refers to his behaviour away from the table, but others might disagree from time to time. He seems to always be at the ready with jokes that he plays on everyone at and around the tables. However, he is usually a very serious player when it comes to the game itself.
Storming the World Series of Poker
In 2005, Greg Mueller had a good year, cashing at four WSOP events. He also made one final table. This was in the $5,000 Limit Hold 'em event. The competitive spirit he brought from hockey helped him to accomplish it.
The next year, in 2006, Mueller made another final table. This time it was a WPT table at the World Poker Challenge Main Event in Reno. He finished fourth in the No Limit Hold 'em event. The money for this feat was over $142,000. It was his best haul yet.
Greg Mueller's Major Title Record
WSOP Bracelets

2
EPT Wins

0
WPT Wins

0
The WSOP World Championship Mixed Hold 'em No Limit Hold 'em event in 2007 was even better. Mueller walked away in second place with over $328,000 in his pocket. Also in 2007, he won 8th place in a No Limit Hold 'em event that earned him $55,000. His skill was advancing to a new level.
2009 was his year at the World Series of Poker, walking away with two bracelets by winning the Limit Holdem Shootout and the Limit Holdem World Championship and only just missed out on player of the year.
Time Away from Poker
Greg Mueller spends his time in his home town of Vancouver, Canada when not on the road. He is fluent in two languages, English and German, and loves to watch competitive sports of all kinds including football, baseball, and, of course, hockey.
He also loves acting, which may explain some of his success at the tables. He has done some modelling utilising his good looks and celebrity status as both a well known hockey player and poker player. He has also starred in TV commercials.
The six-foot-five-inch Greg Mueller is a great competitor. He absolutely hates to lose. With total winnings of $2.6 million, that seems to be less and less of a problem.
He used to be sponsored by Full Tilt Poker, and although he is no longer, he continues to practice his poker game online, and players can get into a game with him online at Full Tilt Poker where he plays regularly.