The Hendon Mob – 4 Players Who Created Britains Biggest Poker Brand
Nationality:

United Kingdom
Nickname:

"The Mob"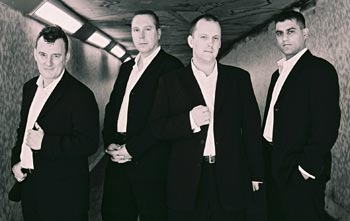 When Brothers Ross and Barney Boatman's regular home poker game ended in Archway, North London, they had to look for somewhere else to play.
They went to play in a game with Joe Beevers and Ram Vaswani in Hendon, London and the rest is history as the Hendon Mob was born.
The Hendon Mob played together in those days, but they would soon be fierce competitors. They would travel all over the country competing in tournaments and eventually, they would travel and play all over Europe. They would never give up their friendship and support of each other, though, and the group grew stronger and stronger.
From Obscurity to Celebrity
In 1999, they played in the first televised poker tournament, called Late Night Poker. This was a pivotal TV show as it was the first ever poker show to use under the table cameras to show the hole cards of players during the hand, rather than waiting until the end of the hand at the showdown.
It was a format that was adopted by all TV coverage since then and revolutionised the popularity of the sport as it made it much more interesting to watch poker. It is credited as the first stage of the poker boom by increasing recreational interest in the sport before the boom really took off after Chris Moneymaker (an amateur) won the World Series of Poker Main Event in 2003.
Late Night Poker had a long run on TV in Great Britain and the Hendon Mob was a popular part of it. Their popularity grew, and they were asked to do appearances on television and radio, as well as interviews for the print media.
Their website thehendonmob.com was established in 2001, when fans expressed interest. The site has grown into the largest poker fan site in all of Europe.
Run by the Mob, It is the biggest live poker database and contains statistics on just about any player who has placed in the cash in any major tournament, worldwide. There are also details of every major tournament and poker tips from the Hendon Mob themselves and other famous poker players who are friends of the mob. There is information on over 250,000 players & their live poker results and nearly 70,000 events which is pretty impressive.
The site has recently been acquired by Global Poker Index which is one of the largest online poker rankings site which tracks player performance and runs a player of the year ranking for all players worldwide. We wait to see how they are going to integrate the Hendon Mob's database into their current ranking system, but it should produce the most complete tracking and ranking system we have seen to date for poker players. So lets meet the mob and find out a little more about each of them.
Ross Boatman
Ross Boatman, or "Rocky," is known across Great Britain as a popular actor. He has been on several top-rated television shows such as London's Burning and some movies. This does not stop him from enjoying a successful career as a poker player as well.
As is the case with the Hendon Mob, Ross Boatman does not confine himself to Texas Hold 'Em. He has been an Irish Omaha champion, and has won the 2004 British High-Low Omaha championship. He has also made money finishes in the World Poker Tour.
Barney Boatman
Ross's brother, Barney Boatman, has had many careers. He has dabbled in building, journalism, teaching, and computer programming. It was only when he discovered poker that he settled into one job—that of a professional poker player.
Barney became well known when he reached the status of Europe's highest ranking Seven Card Stud player in 1999. He has also been involved in Omaha poker. However, he is most fond of Hold 'Em poker and has figured prominently in many poker tournaments including winning a World Series of Poker Bracelet in 2013 in the $1,500 No Limit Holdem Tournament.
Ram 'Crazy Horse' Vaswani
Ram "Crazy Horse" Vaswani started out playing snooker. The more exacting version of billiards, it kept his attention well. However, he soon became even more interested in poker.
He not only won the European Poker Tour Irish Masters in 2004, but in the same year, he made the final table in three WSOP events. He remains the only person to date to reach 4 European Poker Tour (EPT) final tables winning one of them, the Dublin EPT in 2004. He has also won a coveted World Series of Poker Bracelet by winning the 2007 $1,500 Limit Holdem Shootout event.
Joe Beevers
Joe Beevers, "The Elegance," went to University to study finance. What he came away with was a proficient knowledge of the game of poker. He has played and made a name for himself in many tournaments around the world.
By 2005, he had finished 7th in a WPT championship, and also done well in a WSOP championship. He has made many finals and done very well for himself. Known as the brains behind the Hendon Mob brand and website he is one credited with making the mob as popular as it is today.
Team Full Tilt call in The Mob
The Hendon Mob is a close-knit group of players. They have teamed up, but usually they compete with each other. While they are playing against each other, it is every man for himself. Yet, in the end, they reunite as a team and give each other strength and courage.
The Hendon Mob along with their massive fan following became part of the Full Tilt Poker Team a few years ago and ran their leagues on the site often playing in their own Hendon Mob online tournaments along with their fans.
The Mob are no longer sponsored by Full Tilt but are often still seen playing on the site and chatting with their fans.