Jeff Madsen – Exploded into Poker Winning $1.4m at his First WSOP
Nationality:

USA
Nickname:

"The Kid"
Age:

38 years
Poker Earnings:

$4.1 million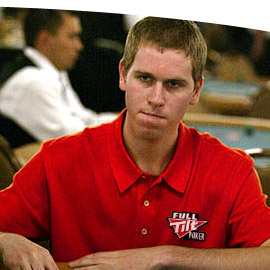 Jeff Madsen broke onto the poker scene with little prelude.
His winnings started almost as soon as he started playing, making a big splash onto the poker scene in 2006.
With great success so far, his biggest challenge is to keep it up in order to maintain the reputation he has already gained.
Learning Poker at College
Jeff Madsen was born in Santa Monica, California on June 7, 1985. He had the usual childhood experiences with team sports and friendships with schoolmates. He went to the same school that Chris Ferguson had gone to, but it was not the first thing on his mind. He was good at maths, though, and studied diligently.
Then, in between high school and going to college at University of California, Santa Barbara, he learnt poker from a friend. They had social evenings together, playing poker and drinking a beer or two. He became fascinated with the game and started a library of poker history and strategy books.
During the years when he was starting college, he would go to an Indian casino to get in on some live action cash games. This was possible because the gambling age at these casino's was 18. He worked on his game online too, but it was winning two tournaments at the casino that led him to decide to go to the World Series of Poker tournaments.
Breaking Records at the World Series of Poker
He went to his parents with a request. He would use a part of a college fund given to him by his grandfather to enter events at the WSOP. He just needed a little more money to make up the rest of what he needed.
If they would give him what he wanted, he could enter six WSOP events. Being the supportive parents they were, they agreed. They had faith that their son Jeff could come home with enough winnings to pay back the college fund and return their loan. They were certainly right.
One of the events Jeff Madsen entered in July of 2006 was the WSOP Omaha Hi/Lo event. Not only did he make it to the final table, he finished third for a cash of $97,000. This finish was a great boost to him both financially and confidence wise, however, his run at the 2006 WSOP was not over.
A few days later, Madsen made it to the final table at the WSOP $2,000 No Limit Hold 'em event. He shocked everyone by eliminating everyone else at the table and winning his first WSOP bracelet and over $660,000. At the time, he was the youngest player ever to win one of the coveted bracelets, at just a little over a month beyond his 21st birthday.
Less than a week after that, Madsen then became the youngest double bracelet winner when he won a second WSOP event. This was the WSOP $5,000 No Limit Holdem Short Handed (6 per table) event. This second victory earned him a further $640,000. A few days after that, he made it to another final table in yet another WSOP event, coming in third in 7 Card Stud Hi/Lo for $65,000 cash.
Wrapping up a great few weeks at the 2006 WSOP Jeff had won over $1.4 million and won the 2006 Player of the Year title. There was no issue in him paying back the borrowed funds from his parents and his college fund!
Since 2006 Jeff Madsen has continued to play poker at all the big tournaments. He continued with his studies for a while, studying film at UC Santa Barbara for a year. He plans to work his poker career around that and end up doing both film work and poker after college.
In 2013, Madsen won his 3rd WSOP bracelet in the $3,000 Pot Limit Omaha event for $384,420.
Jeff Madsen's Major Title Record
WSOP Bracelets

3
EPT Wins

0
WPT Wins

0
Sponsorship with Team Full Tilt
When he is not busy with school or tournaments, he can be found at Full Tilt Poker playing the tables. He was formerly sponsored by Full Tilt Poker after being snapped up into their team as one of the hottest new poker talents around.
He is no longer associated with them, but can still be found playing at the Full Tilt tables and chatting to his fans.