Joanne Liu – Late Starter becomes a Leading Female poker player
Nationality:

Taiwan
Nickname:

"JJ"
Age:

58 years
Poker Earnings:

$2.7 million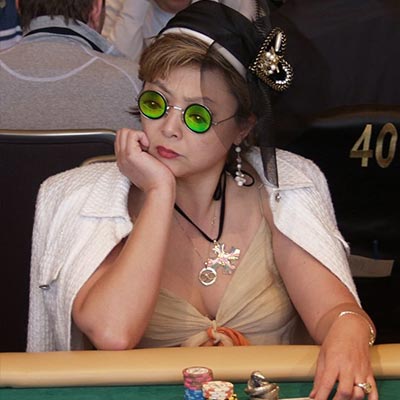 Joanne Liu, better known as "JJ" in the poker industry is a professional poker player from Taiwan.
Born on April the 10th in Taipei, Taiwan, she is the highest placing female in any World Poker Tour Championship event.
In 2007 she finished in second place to Ted Forrest at the World Poker Tour Bay 101 Shooting Stars main event.
She currently resides in Palo Alto California with her family and is an established poker professional, known around the circuit and is seen at most big poker tournaments.
Late Starter
JJ moved to Peoria in Illinois whilst on the path of pursuing a Master's degree at Bradley University in Computer Engineering. She graduated and started to work as a software engineer in Silicon Valley.
Before this time, she had never even heard of poker, let alone played it and after work one evening, she was invited by colleagues to participate in a game of poker and instantly loved it. 
She began her career by practising online with free games to expand her knowledge base. She purchased several books on the subject of poker and began to study it as a hobby.
After a while she started to play poker for real money, and before long she was participating in global poker tournaments such as the World Poker Tour and the European Poker Tour, placing in the money on more than a few occasions. Her total winnings to date are $2.7 million and she has had 11 first place finishes.
She has taken part in a collection of recent poker tournaments, such as the 43rd World Series of Poker 2012, where she placed 155th, the Five Star World Championship World Poker Tour Event Season 11 where she placed 14th, the Deepstack Extravaganza III where she came 3rd and the 44th World Series of Poker 2013 where she placed 41st. 
She also participated in several events in the later part of 2013 such as the continued 44th World Series of Poker 2013 event number 19 where she came 18th, the Deepstack Extravaganza III No Limit Hold 'Em where she came 1st, the Deepstack Extravaganza 3.5 where she placed 11th, the Deepstack Extravaganza IV where she came 14th and the most recent Extravaganza Black Chip Bounty where she finished in 1st place, accumulating over $80,000 in winnings. 
At the age of 48, she is seen as possessing a natural wisdom in the way she plays her cards and has been known to bluff her way to a win a pot in some of the toughest situations.
Joanne Liu's Major Title Record
WSOP Bracelets

0
EPT Wins

0
WPT Wins

0
No Time for Relationships
Joanne is currently single and states that she would much rather pursue her dreams than find a relationship that may limit them. That isn't to say that she won't pursue a relationship with the right person as she is a strong believer in fate.
She began playing poker professionally in 1997 and her favourite style of poker is No Limit Hold 'Em. One of her aspirations is to obtain a bracelet from the World Series of Poker or the World Poker Tour and wants to achieve this before she retires. 
Her favourite pastimes are travelling and poker, as well as spending time with her extended family, walking her dogs and enjoying the sunshine wherever it pops up. Her favourite movie is Bucket List as she feels that is speaks to her and her favourite type of music is 80's.
She often finds herself relaxing with a good book with some soft 80's rock in the background. She has a celebrity icon, Phil Ivey and if she had to choose her favourite place on earth it would be anywhere with good food.
She would love to bring poker to China if it wasn't for the strict gambling laws and would like to encourage more female poker players to enter the tournaments or even play in as amateurs as she feels that the game can provide a healthy balance between working stresses and leisure activities. 
Currently not sponsored by any official poker companies, JJ states that she would love to become sponsored once internet poker becomes legalized in states and countries that do not yet permit it, especially if this were to occur in China or other area's close to where she originates from.
She is a great fan of donating to charities, having donated several thousand to national and international charities and support networks. She recently donated a large sum to the Haiti fund and is currently promoting assistance for those suffering from the recent hurricane disaster. 
If one thing can be said about Joanne Liu's performance on the field it would be that she provides an elegant sophistication to her games and is more than happy to face off against some of the toughest opponents in the hopes of bettering her game.