John Juanda – Quietly Scooping up the Pot
Nationality:

Indonesia
Nickname:

"Luckbox"
Age:

52 years
Poker Earnings:

$15.1 million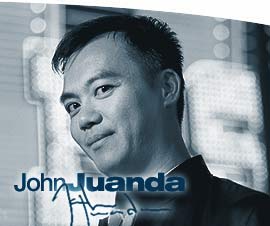 John Juanda is one of the quietest poker players you will meet, however he is also one of the most dangerous and feared players in the world.
He has earned this reputation over the years with a whole list of big tournament wins and final tables that confirms his status as one of the best players in the world.
With $15.1 million in career earnings his record cannot be disputed and he has also played a big part in the shaping of the modern poker world being the former 2nd largest shareholder in Full Tilt Poker.
Child Gambler
John grew up in his family home in Medan, Indonesia and was discouraged from gambling from an early age by both his parents. His father was a heavy gambler and would often lose large sums of money.
During his childhood he spent long periods away from his parents as they worked setting up a business in another city whilst John and his brothers and sisters were looked after by his grandparents. It was during these periods that John would often gamble at school, playing marbles for cash away from the watchful eyes of his parents.
In 1990 John left Indonesia to attend Oklahoma State University at the age of 19. It was here that he was introduced to Poker and from the first day it became a part of his life. He continued to build his bankroll whilst at university and supported himself by selling bibles door to door and trading stocks.
John graduated with degrees in Management and Marketing and by 1996 had build up a significant bankroll from Poker and decided to become a professional.
A Quiet Storm on the Poker Circuit
John quickly became a popular figure on the Pro circuit and was known for his quiet and calm approach to the game which was a pleasant contrast to a lot of players who were loud and boisterous.
In 1999 he made two final tables at the World Series of Poker and at this point he started to be recognised as a serious player in the poker world. His first major tournament win came in 2001 when he won the World Poker Open Championship and then later that season he won his first WSOP bracelet in the $1,500 Limit Triple Draw Lowball Ace to Five event in the 2002 World Series of Poker.
He was recognised for his achievements during the 2001 and 2002 seasons when he was named runner up in consecutive years in the Card Player Player of the Year list.
In 2003 he went from strength to strength winning a further two WSOP bracelets and in 2004 he made 15 final tables. 2005 saw him take some big tournaments down winning $500,000 for his 1st place in the Monte Carlo Millions consolation tournament and also finishing 6th in the Monte Carlo Millions Main Event and 2nd in the Full Tilt Poker Invitational tournament.
John Juanda's Major Title Record
WSOP Bracelets

5
EPT Wins

0
WPT Wins

0
Recently John picked up his biggest cash to date by winning the 2006 Aussie Millions Speed Poker Million Dollar Challenge winning $1million Australian dollars (about USD $750k).
John Juanda has won a total of 5 World Series of Poker Bracelets which makes him very successful in the WSOP rankings. It's hard enough to win one bracelet let alone five.
Juanda currently resides in Marina del Rey, California and in his spare time runs his own restaurant in between his poker adventures.
Building Full Tilt Poker
John Juanda is another early member of FullTiltPoker's Team Full Tilt and his advice and ideas helped to shape the popular online poker room into the second largest operator in the world. He was a well known poker player and was often used in TV commercials for the company. Here is probably his most famous commercial:
It was recently revealed that Juanda was actually the second largest shareholder in Full Tilt out of the large group of famous poker players who invested and started up the company.
Although Juanda wasn't involved in the day to day running of the company and he wasn't a nominated director it was also revealed by Howard Lederer that he was a vocal owner and frequently clashed with CEO Ray Bitar over the direction the company was taking.
Knowing what we know now, John obviously saw some of the mismanagement that ultimately lead to Full Tilt Poker going almost bankrupt after the events of Black Friday, which ultimately lead to all the owners surrendering their interests for nothing to allow Pokerstars to come in and rescue the company and repay funds owed to players. Considering that Full Tilt was a billion dollar company before black Friday and Juanda was the 2nd largest shareholder that had to hurt!
Juanda still holds Full Tilt Poker close to his heart as the company he helped to found and can still be found playing at the tables there now that it has been relaunched and back as strong as ever.