Liv Boeree – Turning Reality TV into Reality Poker Success
Nationality:

United Kingdom
Nickname:

"The Iron Maiden"
Age:

39 years
Poker Earnings:

$2.3 million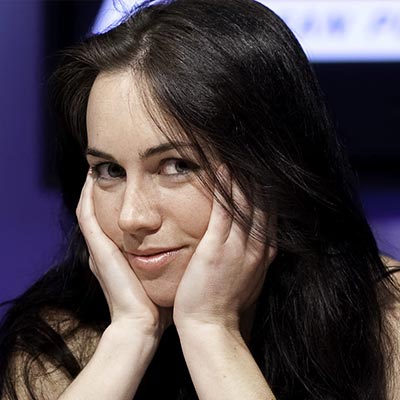 Olivia Boeree, known as Liv is a professional poker player, television presenter and model from England.
Born on July the 18th 1984, in Kent, England, she has become one of the most fearsome faces to attend recent poker tournaments.
Known as the winner of the 2010 European Poker Tour event in Sanremo she has built a very successful poker career and is an instantly recognisable face to both poker fans and fellow professional players alike.
Liv has demonstrated a continued growth in both knowledge and skill when playing poker and has become one of the most respected players in the game amongst her competition. 
She is also, without doubt, one of the sexiest women in poker, and I do go weak at the knees a little every time I see her (did I really just admit that?).
Reality TV Poker Star and Poker Celebrity
Liv attended school in Ashford before pursuing her higher education at Manchester University where she studied Physics with Astrophysics. She then moved to London aged 21 and is a frequent visitor between both Kent and London.
Liv Boeree was introduced to the poker scene when she happened to be selected as one of a group of five contestants during the filming of the reality television show Ultimate Poker Showdown which was a popular show in 2005. During the show, she was coached by some of the world's top poker players; Dave Ulliott, Phil Hellmuth and Annie Duke.
Throughout filming, it was clear that Liv felt more for the game of poker than just the draw of being on a television show and when filming ended she joined the renowned Gutshot Club in London where she was asked to act as a reporter for the Gutshot TV's coverage of the World Series of Poker in Las Vegas. 
From here she went on to host the European Poker Tour for Challenge TV and appeared as a reporter on the World Series of Poker website.
From Success infront of the Camera to Success at the Poker Tables
Away from her presenting and her reporting career, Liv took part in the 2008 Ladbrokes European Ladies Championships, where she walked away as the winner, pocketing $30,000 and has collected a total of twelve World Series of Poker cashes to date. She also finished 18th in the 2012 World Series of Poker in Europe and won €26,611. 
In April 2010, Boeree won the European Poker Tour main event in Sanremo where she took home a huge €1.2million and effectively became only the third female to ever win a European Poker Tour title. This prize was also the 4th largest win in a European Poker Tour event, with over 1,240 participants.
Liv Boeree's Major Title Record
WSOP Bracelets

0
EPT Wins

1
WPT Wins

0
During September 2010, her poker talent and status in the game was recognised as she was recruited as a member of the PokerStars Pro Team. She has been one of the most prominent and active representatives of the team since then and remains part of the team today.
Her current career winnings stand at $2.3 million and with many years still left this is sure to grow with many future big titles surely coming her way.
Away from the Tables
Outside of her poker career, Liv is known for her multiple Reality TV appearances, most recently her position on the hit Travel Channel show "I Bet My Life". She is still an avid presenter for the UK and Ireland's Poker Tour, which is aired weekly within the UK during poker events.
In her spare time, Boeree is a strong supporter or Cancer Research UK, having taken part in the 10,000 metre Race for Life to support the charity and its research. She is also a solid supporter of the SOS Children's charity, a charity supporting the re-homing and care of orphans and abandoned children all around the world. She further supports the Model Citizen Fund, a non-profit organization that provides the distribution of a backpack containing over 150 items that are given to underprivileged people around the world, particularly in areas of famine and victims of natural disasters. 
Liv also absolutely loves heavy metal, first being introduced to this genre of music when she was 15 after hearing The Unforgiven by Metallica and the style of music instantly spoke to her. She began learning the guitar after this experience and now considers herself quite the seasoned professional in its use. This may give us a clue as to her nickname of "The Iron Maiden", perhaps originating from the heavy metal band Iron Maiden. 
Becoming known in the Academic field of Physics
Not just a face on the poker scene, Liv still pursues her interest in the Sciences, particularly Physics. She originally wanted to be a meteorologist, an astronomer and even an airline pilot. Her degree in Physics with Astrophysics provides her with a solid base to pursue her interests whilst still having the time for a separate career.
Her specialization in gravitational waves was published after she completed her dissertation and is now considered one of the leading sources of information on the subject amongst educational authorities and career professionals alike. In a recent Interview, Liv stated that she would like to become more known in the science field and rival Brian Cox, who is a prominent academic and presenter on popular science related programs in the UK.
Liv loves to play with her Fans
You can be sure to see Liv either playing poker with her fellow professionals at major league tournaments, or in front of the camera presenting the events.
She also plays exclusively online at Pokerstars, the company she represents and will often chat with fans while she plays, or you can even sit down and play at her table. Just download the free software by clicking on the box below to get started.