Tom 'Durrrr' Dwan – Possibly the Greatest Online Poker Player ever?
Nationality:

USA
Nickname:

"Durrrr"
Age:

37 years
Poker Earnings:

$2.2 million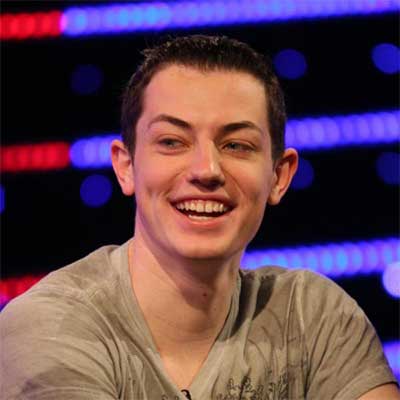 At just 27 years of age, Tom Dwan, aka Durrrr has become one of the world's leading professional poker players.
Competing in NBC's National Heads-Up Poker Championship, Full Tilt Poker's Poker After Dark and GSN's High Stakes Poker to name just a few high profile televised tournaments.
An avid poker player and enthusiast with tournament career winnings of $2.2 million, and significantly more in cash game winnings he has already cemented his name on the poker scene. 
This has been recognised by leading online poker site Full Tilt Poker, where Dwan is now a representative on their Professional Team. 
With his current winning record, Tom has become one of the favourites in any poker event and certainly looks set to become a professional poker legend. At just 27 and with dozens of titles under his belt, Durrrr has become recognised as a modern poker genius and an opponent to watch out for. So, how did this young man become the titan of poker that he is now recognized as?
A Quiet Town Boy
Tom Dwan, full name Thomas Dwan Junior, is the son of Thomas Dwan Senior and was born in Edison, New Jersey on July 30th 1986.
Having lived his entire life in the quiet town of Edison, Tom attended Boston University where he grasped his first taste of live poker with room mates and friends. After his initial self-confessed losing streak, he began to pick up the pace, taking part in out-of-hours tournaments with his fellow students and family members for small cash amounts. 
After a successful run of games and acknowledging his ability to read his opponents expressions, Tom decided, against his parent's wishes, to drop out of University and pursue professional poker as a full time career. He continued with his dream for the following months, taking part in a dozen or so poker tournaments and walking away with big cash prizes on more than one occasion. 
Tom's parents were both of working class background and his family held regular positions while Tom concentrated on his gambling skills. 
Taking the Online Poker World by Storm
Taking his skills online using the $50 that his father had given to him for his birthday, Tom would play a cat and mouse tactic online, placing bets that he intended to lose and then spending his final $15 on a winning hand to turn a profit. 
He created the screen name Durrrr as a slight to his opponents, stating that he thought it may send them on tilt if and when they lost to him allowing him to win even more from them. Before long, Durrrr became known as quite the card player, able to second guess his opponents and leaving the losers shocked at losing to someone of such a young age.
In 2007, it was calculated by HighstakesDB, a website that tracks high stakes online poker games, that Tom had won almost $313,000. By the following year in 2008 his winnings had grown to $5.41 million showing just how fast Durrr landed on the online poker scene. 
Tom also holds the highest ever recorded live cash game win, at an astounding $1.1 million. Unfortunately, rumours are beginning to circulate that Dwan is losing respect from his fellow professional players. If you ask me, they are probably just jealous at his success.
Apparently performing a series of underhand tactics and techniques have cost the player several relationships, none demonstrated more clearly than in a recent game of Texas Hold 'Em where he went one on one with Ilari Sahamies, where the game went on for roughly 12 hours, escalating in aggression as Durrrr finally walked away with a $68,000 profit.
Tom Dwan's Major Title Record
WSOP Bracelets

0
EPT Wins

0
WPT Wins

0
Life away from the Poker Tables
Still an avid poker player and enthusiast, Tom spends his spare time practising new poker techniques with friends and family and taking relaxing walks around the neighbourhood.
He still resides in Edison, New Jersey after purchasing his own home near his family. Tom treats poker as his hobby, often tweeting about results and upcoming match events that either he or his rivals will be a part of.
When not using technology, Tom enjoys spending time with his family and friends, attending small gatherings and visiting the local bars with his friends. 
When not playing for personal profit, Tom puts his skills to good use, taking part in multiple charity events and charity poker tournaments, ensuring that the charity being sponsored receives the full sum.
Play with Durrrr at Full Tilt Poker
Being possibly the most well known online professional poker player has certain benefits, and Tom understands this more than most it seems. In recent years he has maintained a high profile in the poker community and makes various very public stands advocating the right treatment of players. He has made numerous appearances on high profile TV shows and news channels in the USA making his point.
With this elevated status, Dwan has been taken on by leading online poker site Full Tilt Poker, where he has joined their Team Full Tilt Poker, part of the leading players known as "The Professionals".
As their representative, Tom exclusively plays online at Full Tilt Poker, where you can watch and chat with him while he plays, or join in with him when he plays at lower stakes tables with his fans which he does from time to time.