Phil Gordon – dot com Millionaire, Poker TV Celeb and FullTilt Suckout
Nationality:

USA
Nickname:

"Tiltboy"
Age:

52 years
Poker Earnings:

$2.8 million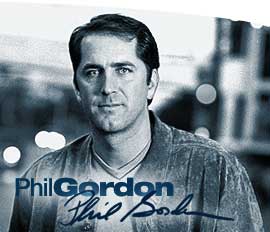 Phil Gordon is one of the most recognizable faces from the poker world and especially from the TV era during the 'poker boom'.
Gordon has achieved enormous things over the past 20 years. After earning his degree in computer science at Georgia Institute of Technology, he went on to become a millionaire during the internet boom of the 90′s.
He then spent the next five years travelling the world and amazingly travelled to over fifty countries in five continents and seeing sights that most of us can only dream of.
It was only when he returned to America after this 5 year trip of a lifetime that he turned his focus to poker.
Making a Name for Himself
The first major poker tournament he played in was at the 2000 World Series of Poker and during that year he cashed in two events. It was the following year at the 2001 WSOP that he was to really make his mark.
Gordon went on a real run in the 2001 World Series of Poker Main Event. He beat a field of 643 runners to make the final table and eventually finished an impressive fourth to eventual winner Carlos Mortensen collecting a prize of just under $400,000.
As a result of this he was asked to appear on a documentary called 'Inside the World Series of Poker' and this was to be the start of a long and distinguished TV career.
He continued his tournament success by making a further two final table appearances at the 2002 WSOP in both Omaha and Limit Holdem events.
It was during 2004 that he got his first big tournament win when he won the World Poker Tour Bay 101 'Shooting Stars' tournament and along with it $360,000. Phil then followed on from that with a further two WSOP final table appearances at the 2005 WSOP.
His total career tournament winnings are $2.8 million.
Phil Gordon's Major Title Record
WSOP Bracelets

0
EPT Wins

0
WPT Wins

1
The TV Personality
After appearing on the 'Inside the World Series of Poker' Documentary, Phil's next big TV appointment was when he was recruited to provide expert commentary at the 2003 World Series of Poker for the live Internet broadcast as well as providing daily reports on National radio as part of the Murray in the Morning show.
Gordon continued with his TV career co-hosting the popular Celebrity Poker Showdown with Dave Foley and then went on to work with ESPN as the commentator for both the 2006 and 2007 Main Event live final table broadcasts.
Phil has also released a number of popular poker books and DVDs, including 'Phil Gordon's Little Green Book' and 'Poker, the Real Deal'.
Phil's association with Full Tilt Poker
Phil Gordon has been a member of Full Tilt Poker's Team Full Tilt since the start and his celebrity status and poker ability made him an integral part of the team.
In fact Phil was one of the members of Team Full Tilt who was also a shareholder and owner of Full Tilt Poker having invested together with other players like Chris Ferguson and Howard Lederer early on during the start up phase of the company.
It was revealed by Howard Lederer in his interview series 'The Lederer Files'  that Phil Gordon was one of the most vocal and angry owners during the period after the events of Black Friday that almost brought Full Tilt to bankruptcy. Pokerstars eventually came in a rescued the company in a three way deal between them, the US Government and the Full Tilt Owners, however the owners had to forfeit their rights to the Full Tilt assets in order to get the deal through and complete the repayment of player balances which had been frozen on the site for some time.
Considering that Full Tilt was a $1billion company before these events and Phil and the other owners were left with nothing, you can understand how he was so angry with CEO Ray Bitar and key directors Chris Ferguson and Howard Lederer for the mismanagement that had lead to the company being in that position.
Phil is no longer involved in any way with Full Tilt Poker and it is unlikely that you would see him playing there any more. There are probably way too many bad memories of the billion dollar company he once owned a part of, but keep your eye out for the avatar above, who knows you may just spot him reminiscing at the Full Tilt Poker tables where he was always known to play at lower than normal limits with his fans.