Meet the Team 888 Poker Ambassadors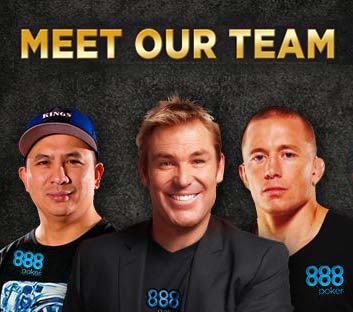 888 Poker has a team of poker players who represent them around the world in the large poker tournaments and in promotional events.
They called this team their Ambassadors, and it is quite different to most online poker sponsored players.
In this team they have gone for well known sports players who are the best in their particular sport but also have a keen interest in Poker.
In fact only JC Tran is a true poker professional, the likes of which fill up most of the other online poker rooms representative teams.
So… lets meets the team…
Shane Warne – Captain

Shane Warne is a former Australian cricket player and is regarded as the greatest bowler in the history of cricket. After retiring from cricket in 2007 he is now a professional poker player and cricket commentator.
Born on September 13 1969, Shane is six feet tall with a right handed battling style. 1992 was the year that Shane Warne played his first Test match which would go on to be a long and illustrious cricket career taking over 1000 international wickets. This has only ever been beaten by one person which is Muttiah Muralitharan from Sri Lanka. 
His career was mulled by a number of scandals on and off the field. He was banned from playing cricket for a period after testing positive for a prohibited substance. He was also plagued by sexual indiscretions and charged with bringing the game in disrepute after accepting money some say was associated for events that happened on the field which backers profited from.
He not only played for the Australian National Cricket team but also domestically for the local cricket team in Victoria. Between 2005 and 2006 he played in England as the captain of Hampshire. Shane retired from professional cricket in 2007 shortly after Australia thrashed England 5-0 in the Ashes series. 
After he retired in 2007, Shane signed a two year deal with 888 poker which has never ended. He was expected to represent 888 poker in the major events and tournaments all over the world including the World Series of Poker, 888 UK Poker Open and the Crown Casino Aussie Millions.
He also spends a lot of his time working for a charity which assists underprivileged and seriously ill children. The charity has spent more than £400,000 helping underprivileged children and has setup the Shane Warne Foundation.
Georges St-Pierre
Georges St-Pierre was born on May 19, 1981 in Saint-Isidore, Québec, Canada. During his childhood nobody knew that he would become a great poker player and UFC champion. As a kid, he was bullied by his peers who stole his clothes and money. When his father learnt that his son was being bullied at school, he decided to teach him Kyokushin Karate which is basically a hard Japanese style martial art whose philosophy is hard training, discipline and self improvement.
These are the qualities that made Georges St-Pierre the man who he is today. He pursued further studies in Kyokushin Karate and earned his black belt when he was only 12 years. He went further and studied boxing, Brazilian Jiu-Jitsu and wrestling after mastering Kyokushin Karate.
In 2002 he made his professional MMA debut in Quebec, Canada. He went on to win his first five fights launching him onto the scene. After this he was signed by the Ultimate Fighting Championship and went on to win his first two matches. Unfortunately he lost the third fight against one Matt Hughes in October 2004. This brought his record to 7 wins and 1 loss. In November 2006, he faced Matt Hughes again for the UFC championship. This time he managed to beat him to become the Ultimate Fighting Championship champion.
Other than being the UFC champion, Georges St-Pierre is also an accomplished poker player. In April 2012 he became a global ambassador for Team 888 Poker. Since then he has participated in the World Series of Poker and made a number of guest appearances in many poker tournaments around the world representing the team. On November 16, 2013, Team 888 Poker sponsored him in a poker match against his most dangerous UFC opponent one Johnny Hendricks.
Georges St-Pierre is a nine times Ultimate Fighting Championship champion and now an accomplished poker player to add to his list of achievements.
JC Tran

J.C. Tran, full name Justin Cuong Van Tran was born on 20th January 1977 in Vietnam. His made the transition to the USA when his parents moved there when he was 2 years old.
He has a Business Management Information System degree from California State University and it was there that Tran was introduced to gambling playing winning $18 from an initial stake of $9 at Capitol Casino, a small win which was enough to ignite his interest in Gambling and lead to a successful poker career.
Tran has achieved a lot in his poker career and has many top tournament finishes to his name. He finished in 5th place during the World Poker Finals in 2004 and on the bubble of the Borgata poker open in 2005. In 2006  he finished 5th in the L.A. Poker classic. All of these events were part of the World Poker Tour which are aired on TV and have a massive following. 
In the most prestigious poker tournament series, the annual World Series of Poker, Tran has also accomplished high honours.  In 2004 and 2005 he has high money finishes in many events and also finished 2nd in a World Series of poker circuit event  winning $251,920.
In 2008 Tran won his first World Series of Poker Bracelet by winning the $1,500 Holdem event winning $631,170 and winning a total of $896,394 over 7 events that year. He continued that success at the 2009 WSOP winning a 2nd bracelet in the Pot Limit Omaha event for $235,685.
He also has other big wins away from the WSOP, with a $670k 2nd place finish in the Pokerstars World Championship of Online Poker in 2006 and a 2nd place finish in the 2007 L.A Poker Classic for a $1.1m prize.
His total career earnings to date is nearly $8million, and this doesn't include perhaps what will be his biggest prize to date. He made it to the final table of the 2013 World Series of Poker Main Event, beating 6,352 other entrants and eventually finishing 5th for a $2.1million pay day.
Want to Play with these guys?
All of Team 888 Poker play exclusively at 888 and you can sit down at the same table as them and play. There are also regular promotions run by the poker room to win chances to play as part of Team 888 along with these celebrities in various live events.